Top 5 Cutest Warrenton, Oregon Hotels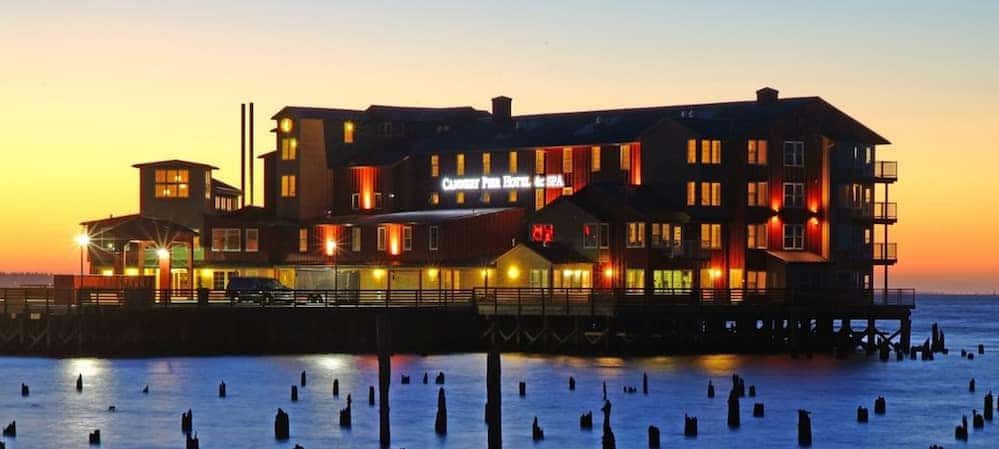 Whether you're looking for a romantic getaway or are visiting on a business trip, there are plenty of great hotels near Warrenton, Oregon where you can enjoy a lovely stay. You'll even find a wealth of yummy places to eat in nearby Astoria. Check out this list of our top five choices, including a number of options just 5 miles away in the heart of Astoria.
Cannery Pier Hotel & Spa
If you're looking for a waterfront hotel near Warrenton, Oregon, there's nothing that can match the allure of the Cannery Pier Hotel, which sits on the former Union Fish cannery pier that juts 600 feet out into the water. Romantic, relaxing, and luxurious, the Cannery Pier Hotel & Spa is the perfect place for a romantic getaway.
Address:
10 Basin Street
Astoria, OR
Atomic Hotel
Located right next to the Astoria-Megler Bridge, the Atomic Hotel is a blast from the past, featuring brightly colored throwback rooms with a fun, funky vibe. This mid-century modern hotel is less than a mile from the heart of downtown Astoria and only a 4-minute walk from the Astoria Riverwalk!
Location:
131 W. Marine Drive
Astoria, OR
Rose River Inn Bed & Breakfast
Located just four blocks from the Columbia River and several minutes from cultural activities like the Oregon Film Museum and Columbia Rivertime Museum, this Craftsman-style establishment features cozy quarters, friendly staff, and a delicious breakfast menu.
Location:
1510 Franklin Avenue
Astoria, OR
Hotel Elliott Astoria
Looking for a classic hotel experience in the heart of revitalized downtown Astoria? That's exactly what you'll get at Hotel Elliott. Built in 1924, this hotel's incredible classic architecture is paralleled only by its rich accommodations and services. You also won't want to forget to take advantage of this hotel's rooftop terrace and wine bar!
Location:
357 12th Street
Astoria, OR
Commodore Hotel Astoria
Another classic hotel in the ilk of Hotel Elliott, the Commodore was built in 1925 and offers a unique, premier boutique hotel experience right in the heart of downtown.
Location:
258 14th Street
Astoria, OR
Let Us Be Your Guide to Astoria and Warrenton, OR Hotels
Interested in finding the best lodging around Seaside and the surrounding areas? Count on the local experts here at Warrenton Kia! Be sure contact us with any questions or for more suggestions of hotels near Warrenton, museums in Astoria, or the best things to do in Seaside, OR.
More Local News from Warrenton Kia
Image courtesy of Cannery Pier Hotel Whether you're looking for a romantic getaway or are visiting on a business trip, there are plenty of great hotels near Warrenton, Oregon where you can enjoy a lovely stay. You'll even find a wealth of yummy places to eat in nearby Astoria. Check out this list of our top…

Contact Us The Clatsop County Animal Shelter offers shelter, protection, care, and adoption services for hundreds of homeless, abused, and abandoned dogs and cats in Warrenton and the surrounding areas every year. They offer a variety of different services, including responses to stray dogs and animal abuse situations. In their words, the mission of…

WARRENTON KIA MAKES DONATION TO HELP LOCAL KIDS AS NEW SCHOOL YEAR BEGINS. Warrenton, Ore. – Warrenton KIA has donated $4800.00 to the Assistance League of the Columbia Pacific, as well as a large assortment of pencils, paper, crayons and backpacks donated from the community and Warrenton KIA, during our "Stuff the KIA Soul" back…