AWD vs. 4WD: What's the Difference?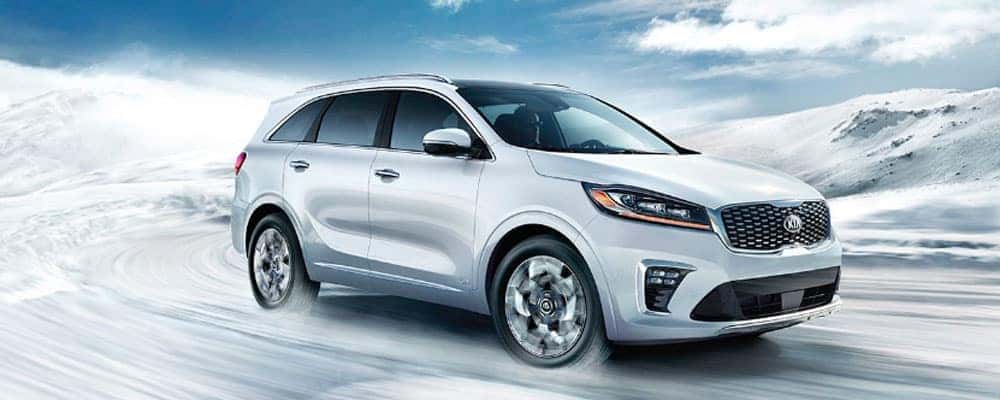 With the full lineup of AWD Kia vehicles for sale near Seaside at Warrenton Kia, you may find yourself wondering if AWD is the same as 4WD. The short answer is: No. So what is the difference between AWD and 4WD, and which is the better option for you? Find out with this helpful guide, and then check out all the Kia SUVs and crossovers for sale at our dealership in Warrenton!
What is AWD?
AWD, or "all-wheel drive," is a drivetrain configuration in which torque is directed from the engine to the front and rear axles to all four wheels via differentials. There are a couple different kinds of AWD systems, including full-time AWD and part-time AWD. As their names suggest, full-time AWD systems send torque to the front and rear axles all the time, while part-time AWD systems are able to monitor road conditions and driving behavior in order to decide when it makes sense to send torque only to the front axle. It is most common to see AWD systems on vehicles with unibody frames, like the Kia Sorento.
What is 4WD?
4WD, or "four-wheel drive," is a traditional 4×4 drivetrain. The principle difference between 4WD and AWD is that, while 4WD systems are able to send power to the front and rear axles, they're also able to direct a specific amount of power between the left and right wheels. In general, 4WD systems are designed for maximum off-road prowess and are usually built into vehicles with truck-based platforms.
Which is Better: AWD or 4WD?
Is AWD better than 4WD, or is it the other way around? The truth is that it depends on your priorities and needs. In general, AWD vehicles usually prove to be the best option for most suburban drivers looking for extra traction in inclement weather and bad road conditions, while 4WD vehicles prove a better choice for those seeking out the most rugged off-road conditions or who are in need of onsite truck utility for a job.
Browse the AWD and 4WD SUVs for Sale at Warrenton Kia!
Among our inventory of new Kia vehicles for sale, Astoria drivers will find plenty of AWD SUVs, but we also have quite a few 4WD SUVs for sale in our pre-owned inventory. You can learn more and compare AWD vs. RWD, and then, why not stop in and test drive one of each to see which feels best to you? Contact us online to schedule your test drive today!
More Answers to FAQs at Warrenton Kia
Kia vehicles offer some of the best value on the market, delivering the latest in technology features, convenient interior design details, performance, and all-around versatility. You'll find that base Kia prices for SUVs, sedans, and hybrid vehicles alike are always reasonable, and you have lots of options for upgrading models or trim levels for more…

The Kia SUV lineup at Warrenton Kia offers a wide variety of options to drivers throughout the Longview area, from sporty compact Kia crossovers to versatile mid-size family haulers. If you're looking to compare Kia SUVs vs. Kia crossovers, we'll help you find the affordable option that's right for you. Explore our available Kia crossover SUV…

Kia and Hyundai are popular car brands amongst Astoria drivers, as both offer affordable, reliable vehicles. However, if you're trying to find the very best option for your daily drives and adventures, you might be wondering which is better, Kia or Hyundai? Warrenton Kia knows that every vehicle purchase is a major decision, and we want…