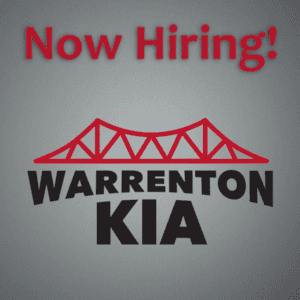 Join our team today! Warrenton KIA is a great place to work, and we have an open position!
We are currently looking for a Full Time Service Washer / Lot Porter. Starting pay rate – $12.00 / hour. Health Insurance after 90 days. Working Monday – Friday 8am-5pm.
Find a job application online here: https://goo.gl/X7WsGP
Applications can be submitted to warrentonkia@gmail.com or via facebook messenger.
---
All Position Information:  Apply in person during the day, Monday through Friday.
Job Information:
Hours per week: 40
Position is: Full Time
Duration:  Six months or more
Shifts Available: 1st (Day)
Wage: 11.00 to 13.00 $ per Hour, DOE
Job Title: Car Lot Attendant
Job Description:
REQUIREMENTS
*Must have a current driver's license w/No Driving Under the Influence of Intoxicants (DUII) citations within the past 10 years.
Employer statement: Applicants should have a good work ethic and take pride in their work.
DUTIES
*Work outside & inside in all types of weather.
*Vacuum and wash vehicles inside and out
*Drive company and customer vehicles to deliver parts and vehicles as needed
*Provide transport for vehicle owners
*Other duties as assigned by the Service Manager.
WAGE/HOURS
FULL-TIME 40 hours per week *working an occasional weekend.
$11 – $13 per hour, Depending on Experience