Astoria and Longview drivers want the best out of their new, used, or certified pre-owned Kia, so it's important to know when to get a Kia oil change. Getting an oil change ensures that your car's oil will be cleaned out to maintain peak performance. Depending on who you ask, some auto mechanics and service experts recommend getting an oil change every 3,000 miles, but new technology and performance features have extended this to between 7,500 and 10,000 miles between oil changes. Learn more about how often you should change your oil at Warrenton Kia.
Oil Change Frequency Guidelines
You can surely count on the 7,500 to 10,000-mile suggested range to stay on track with keeping clean oil in your vehicle if you are mostly using your car for going to work or driving around town. If drivers have something like an SUV, which will often offer much more power and is used more frequently for work, travel, or commuting, then it's important to bring your car in for an oil change a little earlier than recommended. If you use your vehicle for any of the following, then you'll also want to schedule your oil changes a little more frequently:
Off-roading
Commercial use
Racing
Heavy towing
How Long Does an Oil Change Take?
For those wondering how long an oil change takes, you'll be glad to hear that you'll typically be in and out in an hour whenever you bring your vehicle to a local mechanic or service center. If you're tight on time, you can always call ahead to see what the best time of day is to bring in your car to ensure a speedy turnaround.
More Oil Change Tips for Warrenton Drivers
Next time you're ready to bring in your Kia for an oil change, be sure to keep these helpful tips in mind to take advantage of your visit to our Warrenton service department:
Even if you don't drive your car much, you'll still want to get an oil change at least twice a year. Oil breaks down over time even if your car isn't being used.
Whenever you get your oil changed, you should replace the oil filter as well. You can always stop by our dealership for an oil filter if you're doing a DIY oil change.
Wondering, "What type of oil does my car need?" If you're unsure whether your vehicle requires conventional or synthetic oil, check your owner's manual! Synthetic oil can cost more, but some vehicles require it.
How to Change Oil on a Car
In addition to keeping yourself on a consistent oil change schedule, you can also monitor your vehicle's oil at home by checking for potential leaks in the oil system, oil discoloration, and any metal particles in the oil. This will help you identify any problems or issues before they become worse later on and affect other important functioning parts of your vehicle. If you're up to the challenge of changing your oil on your own, follow these steps:
Jack your car up with jack stands or steel ramps.
Locate the oil drain plug on the bottom of your oil pan underneath your engine. Place an oil basin directly underneath the plug, then unscrew the plug and allow the old oil to drain out completely (this may take up to 15 minutes). When you're sure all the oil has drained, you can replace the plug.
Locate your oil filter, and remove it with an oil filter wrench. Expect a bit of extra oil to drain out when you remove the filter and make sure you keep the basin underneath to catch it.
Grab your new filter, being sure to rub a bit of oil around the rubber seal – this ensures your filter is watertight and is an essential step.
Set the new filter in place, then tighten it by hand.
Now that your old oil is completely drained and a new filter is in place, you can remove your oil cap. Pour in the specified amount of new oil, which you can find in your owner's manual if you're unsure. Finally, replace the oil cap.
Before you call it a job well done, you should check your oil level by pulling out the dipstick. If you're still low, you may add another ounce and check the level again. Once you get a proper oil level reading, you're good to go!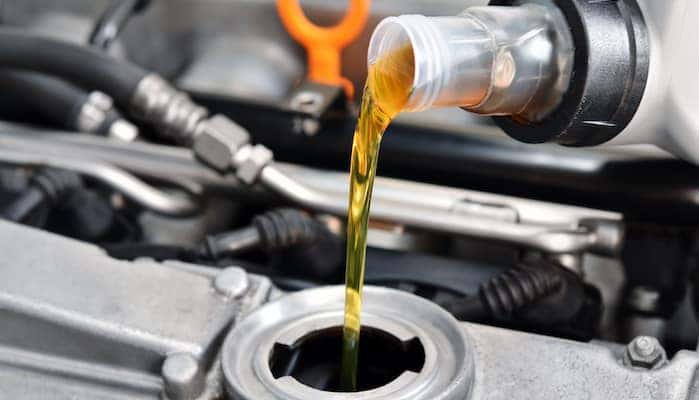 Schedule Kia Oil Change Service at Warrenton Kia
Now that you know more about when to get a Kia oil change for your sedan, SUV, or crossover, you can check out more Kia service tips and tricks. When you come in for your next visit to our service department, be sure to ask if we're running any Kia service specials that might allow you to save on Kia oil changes, tire rotations, transmission flushes, and more. Check engine light on? Contact us today to schedule an appointment near Seaside and Long Beach!