Warrenton KIA 2018 Traveling Tailgate Fundraiser Raises $8,432.00 For Youth Athletics

The Warrenton KIA Traveling Tailgate Fundraiser ventured the area to our local schools and had a great time with each of the different communities!  For every tailgate we brought lots of prizes, a halftime raffle giveaway, a large food donation from Warrenton Walmart, free T-shirts, Games, Music and lots of FUN!  At each event the local home team was able to raise $200.00 per touchdown to reach a maximum donation of $1000.00 from Warrenton KIA.  Additional funds were raised from collected raffle funds and concession sales of the food donations.  The funds raised go to benefit school-wide athletic programs for the sports of the school's choice.
Collectively, our five Traveling Tailgate Events raised a total of 8,432.00 for the participating area schools!  All funds raised benefit the respective high school athletic departments and booster clubs.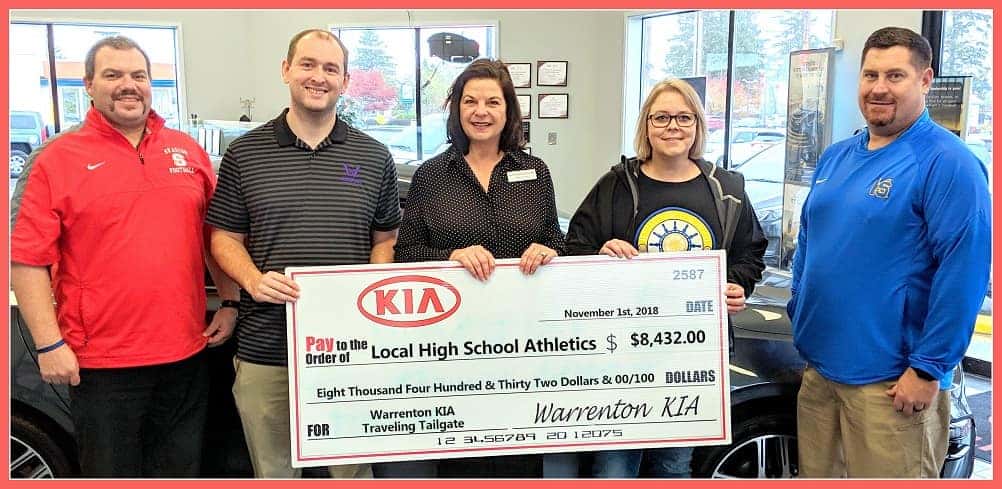 Pictured above from left to right: Seaside Seagulls Principal and Head Coach Jeff Roberts, Warrenton Warriors Athletic Director Robert Hoepful, Warrenton KIA Dealer Roxanne Williams-Morinville, Ilwaco Fighting Fishermen Athletic Director Kara Powell and Knappa Loggers Athletic Director Kirk Miller.
Both students and adults alike were able to join in on the fun at the tailgates.  Our challenge games of corn-hole and a football toss were just hard enough to bring out the competitive spirit in all who tried them.  We thank all the students and families that stopped by to join the fun!  Each high school community had their own unique energy!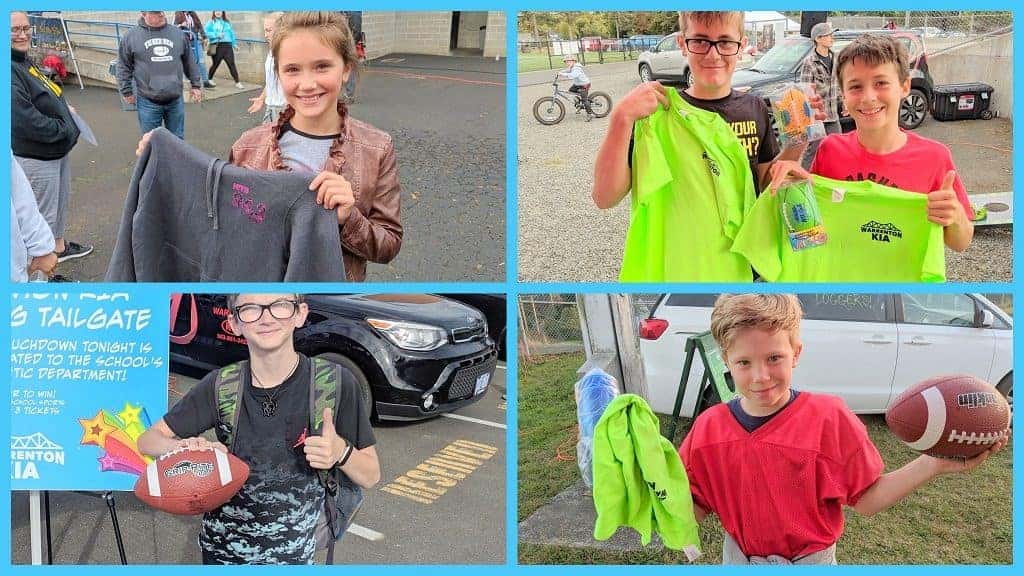 Pictured Above: Some of the smiling faces of the many students from different schools that participated in our challenge games winning prizes at the 2018 Traveling Tailgate.
When asked about the goal of the Traveling Tailgate Roxanne Williams-Morinville stated "We may be located in Warrenton but we really appreciate all of our surrounding area. This was an effort to create a wide-reaching program to do some good in all the local communities. The schools we worked with were so receptive and gracious to us, it was a pleasure to work with them and the events were lots of fun!"
Coach Ian O'Brien of Warrenton High School said "We are very appreciative of Warrenton KIA's support for two of our football games. We are fortunate for everything they do for Warrenton High School students. The music, games and prizes created a great high school tailgating atmosphere to go along with our free BBQ we have prior to each home football game. Warrenton KIA is ALL IN for Warrenton students and athletes and we can't thank them enough. Thank you Warrenton KIA! GO WARRIORS!"

For these events Warrenton KIA teamed up with our local Walmart which supplied donation of food and prizes for the tailgate events. For each event Walmart graciously donated 250 meals of a hot dog, chips and drink. The schools had the option to monetize that donation at the concession stand or to give it away free, or both.  Some schools gave the meals away to the student body for free. We would like to thank Walmart for their help and donations with these events.
We thank the many school staff and volunteers that helped with planning before and at the events helping them run smoothly! Additionally we would like to thank Warrenton Smart Foodservice and Fred Meyers for donations that helped support the events.  We would like to thank Hits 94.3 FM in Astoria for their help with coverage of the events.
Summary of all our 2018 Traveling Tailgate Events:
Warrenton High School (#1)– September 7th – Raised 1647.00

Donations go to Warrenton Athletics

Ilwaco High School – September 14th – Raised $984.00

Donations go to Ilwaco Athletics

Seaside High School – September 21st (Clatsop Clash) Raised $2655.00

Donations go to Seaside Athletics and Senior Safe & Sober Graduation Party

Warrenton High School (#2)– October 5th (Homecoming) Raised $1000.00

Donations go to Warrenton Athletics

Knappa High School – October 19th – Raised $2,146.00

Donations go to Knappa Athletics

Astoria High School – Not Participating